Pack Fit & Sizing
If there's one thing we could leave you with, it's this: Don't size your pack like your tee shirt, size it like your shoes. A well-fitted pack allows you to stay comfortable and use less energy on the trail.
The guide below is to help ensure your current or new pack is the right fit for you.
Measure your torso length
Have a friend grab a soft measuring tape. Tilt your head forward so they can find the highest protruding knob at the base of your neck – that's your C7 vertebrae. They should measure from that point down your spine until they reach your iliac center – that's the spot that aligns with the highest point on your hipbone.
Once you know your torso length, you can look up the size you should buy on our Fit Chart. All Gregory packs are sized the same regardless of gender, so a medium is a medium whether it's a women's pack, men's pack, or unisex.
It's best to try it on with some weight in it – at least 10 to 20 pounds. Make sure the top edge of the hipbelt sits 1 inch above your hips. The shoulder straps should wrap smoothly over your shoulders, then onto your back about 3 inches below the top of your shoulders. If the shoulder strap starts lower than 3 inches, try a smaller size.
This buckles above your hips, letting you carry your pack's weight there instead of on your shoulders. You should position the belt pad 1 inch above your hips (or on your "iliac crest" to get all technical).
They should form to the contours of your natural shape and rest against your shoulders, wrapping about 3 inches below the top of your shoulder blade.
This strap buckles directly over your heart to keep the shoulder straps in place. This strap should not distort the shape of the shoulder strap or inhibit your breathing.
These critical straps allow you to shift weight between your shoulders and hips. They also draw weight toward your center of gravity and provide stability.
When you're on the trail, you can adjust the straps to transfer weight between your hips and your shoulders as you need to conserve energy and stay comfortable.
Transfer Weight to Hipbelt
Loosen the shoulder straps slightly, then tighten the load lifter straps.
Transfer Weight to Shoulder Straps
Loosen the load lifter straps, then tighten the shoulder straps.
Designed to fit a wide range or torso lengths and body shapes.
These packs allow for changes in torso length within the sizes indicated.
Plus size packs
Say "yes" to that backpacking trip without worrying about the fit of your backpack. Meet the world's first dedicated line of plus size packs made for people of diverse body sizes and shapes, ranging from 2x-6x.
SHOULDER HARNESS FIT
Designed with unique contours and specialized dimensions, the plus-size fit shoulder strap is more than added length. Its specialized design delivers 3-key differences to provide the correct fit for larger body shapes.
LENGTH: By increasing the proportions along with the shape of the contoured shoulder strap the length is extended where it's needed to provide maximum comfort.
WIDTH: The fit is revised to wrap over the shoulders at a wider angle than standard fit harnesses, providing a wider footprint and a more comfortable carry.
ADJUSTMENT ACCESSIBILITY: Access to the shoulder harness load lifter adjustment are made more accessible by moving the hardware closer to the wearer along with extended sternum/chest strap lengths.
HIPBELT FIT
Whether you are on a day hike or an overnight backpacking trip, two design changes make our plus size hipbelt a game-changer when it comes to comfort on the trail.
LENGTH: Extended padding and support provides comfortable load transfer all the way around your hips and in combination with the extended webbing length will fit up to a 60" waist.
POCKET ACCESS: We've moved the quick-access pocket location to the front of the hipbelt, to ensure you have the quick access you expect from hipbelt pockets.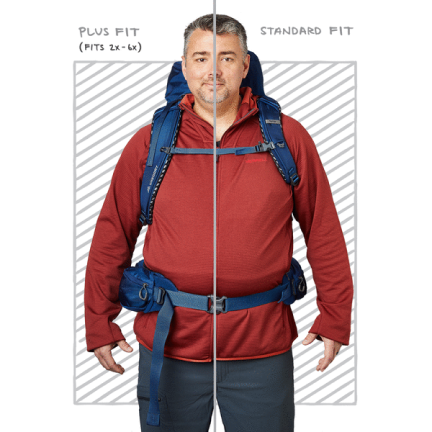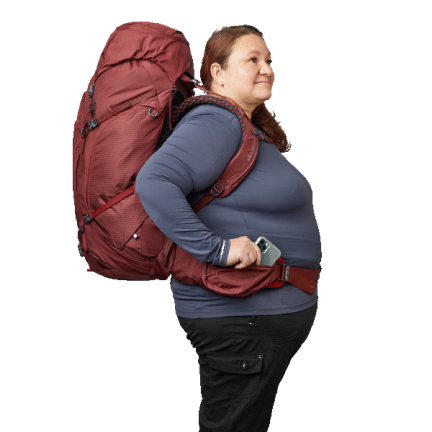 TORSO FIT
Our Plus Size packs are designed to follow Gregory's standard torso length sizing. This is based purely on your back length and you can learn more here about how Gregory torso sizing works.
That being said, our testing and recognition of diverse body shapes has taught us that if you are more comfortable wearing the top of your hipbelt higher than the recommended 1" above your iliac crest due to your unique body shape, we recommend you consider down-sizing one torso length size. This will allow you to wear the pack higher on your hips and still have a smooth harness wrap over the back of your shoulder, which is key to achieving ultimate comfort on the trail.